P. J. Soles Net Worth
P. J. Soles Net Worth 2022: Wiki Biography, Married, Family, Measurements, Height, Salary, Relationships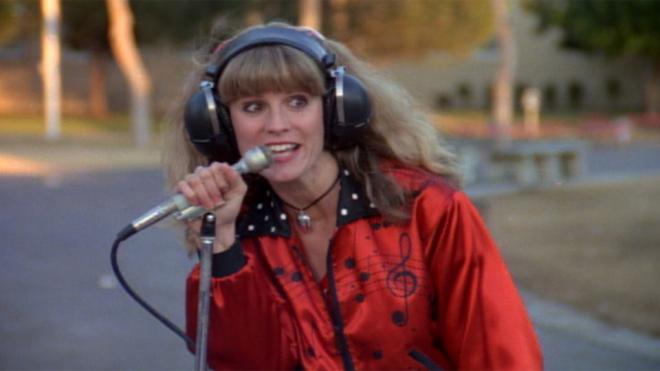 Pamela Jayne Hardon net worth is

$1 Million
Pamela Jayne Hardon Wiki Biography
Born Pamela Jayne Hardon on the 17th July 1950, in Frankfurt, Germany, P.J. is an American actress, probably still best known to the world as Lynda in the horror thriller "Halloween" (1978), and as Riff Randell in the comedy film "Rock 'n' Roll High School" (1979), among many other differing appearances.
Have you ever wondered how rich P.J. Soles is, as of mid- 2017? According to authoritative sources, it has been estimated that Soles' net worth is as high as $1 million, an amount earned through her career as an actress, which started in 1973.
P.J. Soles Net Worth $1 Million
Pamela is of mixed ancestry; her mother is American, while her father is Dutch. In her early years, Pamela lived in Morocco, Venezuela, and Belgium, as her father was working for an international insurance company. While living in Belgium she went to the International School of Brussels, then returned to the USA and enrolled at Briarcliff College, New York. During her studies, she aspired to become the first woman ambassador to the Soviet Union, however, her goals changed once she paid a visit to the Actors Studio in New York City.
She settled in Manhattan, and started auditioning for commercials and also modeled for fashion magazines. In 1976 she auditioned for both "Carrie", and "Star Wars", in a joint casting held by George Lucas, and Brian De Palma. She was selected for the role of Norma in "Carrie", which was her first film role. After that, she appeared in the romantic drama "The Boy in the Plastic Bubble" the same year, next to John Travolta and Glynnis O'Connor, while in 1978 she had her breakthrough role as Lynda in the John Carpenter's horror thriller "Halloween", starring Donald Pleasence, Jamie Lee Curtis and Tony Moran. Before the '70s ended, Pamela starred in the comedy "Rock 'n' Roll High School" (1979), which also added to her net worth.
Looking to build on the success she was enjoying in the late '70s, with the new decade, she started it with the role of Pvt. Wanda Winter in the war comedy "Private Benjamin", which was nominated for three Academy Awards, and then appeared next to Bill Murray in the comedy "Stripes" (1981), while in 1985 she portrayed Wanda in the biopic about Patsy Cline – "Sweet Dreams" – with Jessica Lange and Ed Harris in the lead roles. She had several starring roles in films made throughout the '80s, however, the films didn't achieve commercial success.
Nothing much changed for Pamela in the '90s, as her career continued its decline, as she made appearances in such films as "Shake, Rattle and Rock!" (1994), "Little Bigfoot" (1997), and "Jawbreaker" (1999). She bounced back in 2005 with a role in the horror "The Devil's Rejects" , starring Sid Haig, Sheri Moon Zombie and Bill Moseley, and continued with appearances in horror films, in 2011 featuring in "Beg" next to Tony Moran and Tony Todd, while in 2012 she featured in another horror "The Butterfly Room", directed by Jonathan Zarantonello, and starring Barbara Steele, Ray Wise and Erica Leerhsen, which increased her wealth.
Most recently, she appeared in the horror "Grindsploitation" (2016), and will star in the horror "13 Girls", which is currently in pre-production, while its filming is scheduled to start towards the end of 2017.
Regarding her personal life, Pamela has been married and divorced three times. Her first husband was J. Steven Soles, whose last name she kept until the present day. The couple married in 1970, but after Pamela started pursuing her acting career, the two divorced. In 1978 she married actor Dennis Quaid, to whom she was married until 1983. Later that year she married Skip Holm, with whom she has two children, but the couple divorced in 1998.

| | |
| --- | --- |
| Full Name | P. J. Soles |
| Net Worth | $1 Million |
| Date Of Birth | July 17, 1950 |
| Place Of Birth | Frankfurt, Germany |
| Height | 1.73 m |
| Profession | Actress |
| Education | International School of Brussels |
| Nationality | American |
| Spouse | Skip Holm (m. 1983–1998), Dennis Quaid (m. 1978–1983), Steven Soles (m. 1973–1975) |
| Children | Ashley Brooke Holm, Jeffrey Sky Holm |
| Parents | Cornelis Johannes Hardon II, Nancy Hardon |
| IMDB | http://www.imdb.com/name/nm0001753/ |
| Movies | Halloween, Carrie, Stripes, Rock 'n' Roll High School, The Devil's Rejects, Private Benjamin, Breaking Away, Jawbreaker, The Boy in the Plastic Bubble, The Butterfly Room, Alienator, Alone in the Dark II, The Tooth Fairy, Innocent Prey, Little Bigfoot, Soggy Bottom U.S.A., Our Winning Season, Mirror... |
| # | Quote |
| --- | --- |
| 1 | [on Stripes (1981)] That was really fun, although I'll say, Bill [Bill Murray] is kind of a depressed guy, except when the camera's rolling. Then he puts it all out there and tries to be funny and witty and a genius, but otherwise, he's not that funny. |
| 2 | Horror movies are all about getting your attention, you always have to be on guard. People love to be on the edge, there's nothing like a surprise. Our whole lives are built around surprises -- surprise birthday parties, surprises at restaurants. It keeps our lives from being boring. Also, it's the closet thing to watching a fantasy that you could never conceive of yourself, never dare to have. Even in a private moment. Something you'd never let enter your thinking. So you can sit for two hours and watch someone else's fantasy and not feel guilty if you enjoy it. |
| 3 | Everybody thought I was a California girl, and I felt I had to work harder than most people. I went to a place in my mind from having watched other movies, so for me it was a little more challenging than a lot of people probably realize. |
| 4 | All those times I'd gotten married with the intention of having children, even when I was in my early twenties. |
| 5 | I am so happy that every generation still tunes into most of the classic and cult films I was lucky to be a part of. |
| 6 | I'm still looking for that Quentin Tarantino, for what he did to John Travolta. That's part of why I wanted to produce - to give myself good parts. |
| 7 | "Dennis is very, very sad. I've never heard him sound so sad. I got the feeling he hasn't slept recently. He's devastated just by the thought of any separation mostly because they have a son. He's very concerned about the effects on his son." - about the separation of Dennis Quaid from Meg Ryan. |
| # | Fact |
| --- | --- |
| 1 | Appearing as "Riff Randell" in The Donnas' music video "Too Bad About Your Girl". [August 2003] |
| 2 | Divorced now from Skip Holm, she retired for the most part to raise her two children. P.J. is presently producing an in-development movie for Paramount and is considering a remake of her hit movie Rock 'n' Roll High School (1979). [October 2003] |
| 3 | Ranked #4 on Maxim's "Hottest Women of Horror Movies" list. |
| 4 | P.J. has two children: a son, Jeffrey Sky Holm, a 2005 graduate of the United States Merchant Marine Academy and is an Officer serving with the United States Coast Guard and a daughter, Ashley Brooke Holm, a 2010 graduate of U.C. Irvine with a degree in English/Creative Writing, is teaching yoga and in the band Jo Nash with composer John Corlis. |
| 5 | Interviewed in the book "Invasion of the B-Girls" by Jewel Shepard. |
| 6 | Rock group Local H named their 2004 album, "Whatever Happened to P.J. Soles?" after her. It includes a song about her cult celebrity status titled simply "P.J. Soles". |
| 7 | She wore a red baseball cap to her audition for Carrie (1976), which director Brian De Palma loved. He told her to bring it with her when they started shooting. The first thing he said to her on the set was, "Did you bring your red baseball hat?" She ended up wearing that hat for the majority of the film. |
| 8 | Her father, Cornelis Johannes Hardon II, was Dutch. Her mother, Nancy, was American, and was born in New Jersey, to Jewish immigrants from Russia and Austria. |
| 9 | Did her screen test for Carrie (1976) with John Travolta. He loved her performance so much, he made sure she got a part in his television movie The Boy in the Plastic Bubble (1976). |
| 10 | Has one son, Sky (b. 1983) and one daughter, Ashley (b. 1988), with Skip Holm. |
| 11 | Originally wanted to be Ambassador to the Soviet Union. |
| 12 | Lived in several foreign countries while growing up. |
| 13 | Sang "Rock and Roll High School" with Ramones at one of their concerts. |
| 14 | John Carpenter, wanted her for his film Halloween (1978) after seeing Carrie (1976). He wrote the part of Lynda especially for her because of the way she said the word "totally." |
| 15 | In her death scene in Carrie (1976), she is knocked unconscious by a wild water hose; in actuality, the hose tore her eardrum and she is really unconscious for that scene. |
Actress
| Title | Year | Status | Character |
| --- | --- | --- | --- |
| Beg | 2011/II | | Eva Fox |
| Imps* | 2009 | | Young Lady (segment "Soda") |
| Alone in the Dark II | 2008 | Video | Martha |
| Prank | 2008 | | Marianne |
| Love in the Age of Fishsticks | 2008 | | God (voice) |
| Mil Mascaras vs. the Aztec Mummy | 2007 | | |
| Dead Calling | 2006 | | Valerie Redmond |
| No Place Like Home | 2006/I | | P.J. |
| Ray of Sunshine | 2006 | | Mother |
| The Tooth Fairy | 2006 | Video | Mrs. MacDonald |
| Death by Engagement | 2005 | | Mrs. Starkington |
| The Devil's Rejects | 2005 | | Susan |
| Murder on the Yellow Brick Road | 2005 | | Hannah Gruber |
| Pee Stains and Other Disasters | 2005 | | Jenny |
| Silence | 2003 | Short | Jan |
| Kept | 2001 | | Celia |
| Mirror, Mirror IV: Reflection | 2000 | | Annika's Mom |
| Blast | 2000 | | Deputy |
| Jawbreaker | 1999 | | Mrs. Purr |
| Little Bigfoot | 1997 | | Carolyn |
| Uncle Sam | 1996 | Video | Madge Cronin |
| Out There | 1995 | TV Movie | Religious Nut |
| The Power Within | 1995 | Video | Mrs. Applegate |
| Rebel Highway | 1994 | TV Series | Evelyn Randall |
| Shake, Rattle and Rock! | 1994 | TV Movie | Evelyn Randall |
| Prize Fighter | 1993 | Video Game | June |
| Soldier's Fortune | 1991 | | Debra |
| Alienator | 1990 | | Tara |
| B.O.R.N. | 1988 | | Liz |
| Saigon Commandos | 1988 | | Jean Lassiter |
| Knight Rider | 1986 | TV Series | Ellen Whitby |
| Hardcastle and McCormick | 1985 | TV Series | Ellen Styner |
| Sweet Dreams | 1985 | | Wanda |
| Innocent Prey | 1984 | | Cathy Wills |
| Simon & Simon | 1983-1984 | TV Series | Martie Collins / 'Crazy Susan' Sackwell |
| Airwolf | 1984 | TV Series | Ellie |
| Cheers | 1984 | TV Series | Julie |
| Listen to the City | 1984 | | Sophia |
| Sawyer and Finn | 1983 | TV Movie | Becky Thatcher |
| The Other Woman | 1983 | TV Movie | Mary Louise |
| Romance Theatre | 1982 | TV Series | Cassie |
| Soggy Bottom, U.S.A. | 1981 | | Sharlene |
| Stripes | 1981 | | Stella |
| Private Benjamin | 1980 | | Pvt. Wanda Winter |
| Rock 'n' Roll High School | 1979 | | Riff Randell |
| Breaking Away | 1979 | | Suzy (as Pamela Jayne Soles) |
| Old Boyfriends | 1979 | | Sandy |
| Halloween | 1978 | | Lynda van der Klok |
| Zuma Beach | 1978 | TV Movie | Nancy |
| Our Winning Season | 1978 | | Cindy Hawkins |
| Calling Doctor Storm, M. D. | 1977 | TV Movie | Sarah Baynes |
| Alexander: The Other Side of Dawn | 1977 | TV Movie uncredited | |
| The Possessed | 1977 | TV Movie | Marty |
| Blood Bath | 1976 | | |
| The Boy in the Plastic Bubble | 1976 | TV Movie | Deborah |
| Carrie | 1976 | | Norma |
| The Blue Knight | 1976 | TV Series | Minnesota |
| Love Is a Many Splendored Thing | 1967 | TV Series | Unknown (1973) |
| 13 Girls | 2016 | pre-production | Medical Examiner |
| Grindsploitation | 2016 | | Dr. Ramone (segment "Arbor Day") |
| The Butterfly Room | 2012 | | Lauren |
| Eternal | 2012/I | | Lucinda |
Producer
| Title | Year | Status | Character |
| --- | --- | --- | --- |
| Clown Motel | 2016 | Short associate producer completed | |
| B.O.R.N. | 1988 | associate producer | |
Camera Department
| Title | Year | Status | Character |
| --- | --- | --- | --- |
| 'Halloween': A Cut Above the Rest | 2003 | TV Movie documentary still photographer | |
Composer
| Title | Year | Status | Character |
| --- | --- | --- | --- |
| Cheap Rodeo: First Night in Heaven | 2013 | Short | |
Soundtrack
| Title | Year | Status | Character |
| --- | --- | --- | --- |
| Rock 'n' Roll High School | 1979 | performer: "Rock 'n' Roll High School" | |
Self
| Title | Year | Status | Character |
| --- | --- | --- | --- |
| More Acting 'Carrie' | 2016 | Video documentary short | Herself |
| Horror Icon: Inside Michael's Mask with Tony Moran | 2016 | Documentary | Herself |
| Horror Kung-Fu Theatre | 2015 | TV Series | Herself |
| Quickies | 2015 | TV Series | Herself |
| The 50 Best Horror Movies You've Never Seen | 2014 | TV Movie | Herself |
| Psychotic State | 2014 | | Herself |
| Midnight Matinee Psycho | 2013 | Video | Herself |
| Framelines | 2011 | TV Series | Herself |
| AM Northwest | 2011 | TV Series | Herself |
| Still Screaming: The Ultimate Scary Movie Retrospective | 2011 | Documentary | Herself |
| Halloween: The Inside Story | 2010 | TV Movie documentary | Herself / Lynda van der Klok |
| Staying After Class | 2010 | Video short | Herself |
| Into the Pit: The Shocking Story of Deadpit.com | 2009 | Documentary | Herself |
| The Horrorhound | 2007 | Video documentary | Herself |
| Halloween: The Shape of Horror | 2006 | Short | Herself |
| Halloween: 25 Years of Terror | 2006 | Video documentary | Narrator |
| Horror's Hallowed Grounds | 2006 | TV Series short | Herself |
| Working with a Master: John Carpenter | 2006 | Video documentary short | Herself |
| 30 Days in Hell: The Making of 'The Devil's Rejects' | 2005 | Video documentary | Herself - 'Susan' |
| Backstory | 2005 | TV Series documentary | Herself |
| E! True Hollywood Story | 2004 | TV Series documentary | Herself |
| Stars and Stripes 1 | 2004 | Video documentary short | Herself |
| Stars and Stripes 2 | 2004 | Video documentary short | Herself |
| Super Secret Movie Rules | 2004 | TV Series documentary | Herself ("Lynda" - Halloween) |
| 'Halloween': A Cut Above the Rest | 2003 | TV Movie documentary | Herself |
| Acting 'Carrie' | 2001 | Video documentary short | Herself |
| 'Halloween' Unmasked 2000 | 1999 | Video documentary | Herself |
Archive Footage
| Title | Year | Status | Character |
| --- | --- | --- | --- |
| Saucy 70's Volume 2 | 2010 | Video documentary | |
| Going to Pieces: The Rise and Fall of the Slasher Film | 2006 | Documentary | Herself |
| Ramones Raw | 2004 | Documentary | Rif Randell (uncredited) |
| The American Nightmare | 2000 | Documentary | Herself |
Known for movies